If you've ever tasted a Cuban sandwich, you know how delicious they are. With such an awesome blend of flavors, it's hard to forget! We'd like to think that we offer the best cuban sandwich in Arlington. Read on to learn what makes ours a little bit unique…
At Earl's, we love to do things differently…which is why we roast our own meats, make our soups from scratch and bake fresh cookies every day. With this in mind, we thought, "Why not add a little more flavor to a traditional Cuban?" And from that, our Cuban Club was born.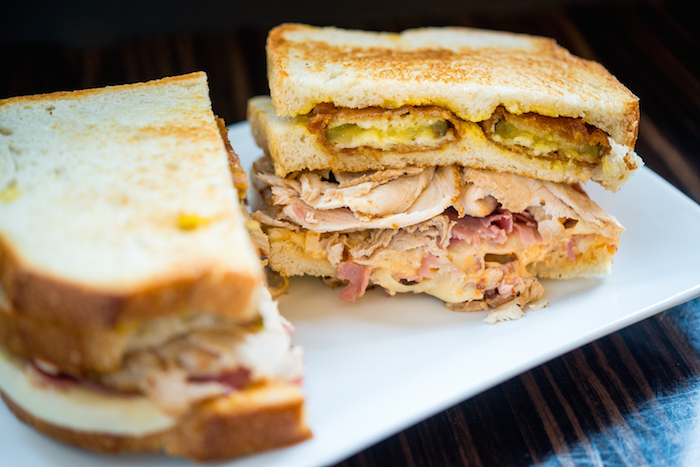 What is a traditional Cuban Sandwich?
A traditional Cuban Sandwich, sometimes called a Cubano, is a Latin variation on a grilled ham and cheese sandwich. This ridiculously delicious sandwich is grilled and made with ham, pork, Swiss cheese, pickles, mustard and Cuban bread. The essential ingredient being the roasted pork.
Notice the Cuban bread part. But, what is Cuban bread? Well, it's a white bread, similar to French bread and Italian bread, but has an additional ingredient- it often includes a small amount of fat- either lard or vegetable shortening and made in long, baguette-like loaves.
We decided to put our Cuban on sourdough and include one piece in the middle- similar to a Club. Yep, you read that right- it has THREE pieces of bread! Another big difference is that we use Provolone instead of Swiss cheese and add prosciutto for added flavor instead of glazed ham. We also deep-fry our pickles. Why? Because who doesn't love fried food.  
History of the Cuban Sandwich
Cuban sandwiches were born in Cuba, but became increasingly popular in the United States when Cuban workers moved to Florida to work in the cigar factories. The first reports of a traditional Cuban sandwich were around 1900 in Tampa, Florida.
By the 1960s, Cuban sandwiches had spread to Miami, as the city had gained a large influx of Cuban residents after Fidel Castro's rise to power in Cuba in 1959. The Communist Revolution caused a wave of Cubans to leave their native land and settle in other locations. Like many ethnic groups, they brought their culture and cuisine with them. And, as they say, the rest is history 🙂 
Earl's Cuban Club
Can't make it in to try one? Try making one at home! (It would be really fun if you take a picture of your finished masterpiece and tag us to let us know what you think! @EarlsSandwiches)
Roasted pork loin

Prosciutto

Provolone

Chipotle mayonnaise

Honey mustard

Deep-fried sweet pickle chips

Stack all ingredients between three pieces of grilled sourdough
About Earl's
We're sandwich nerds who love preparing fresh and unique food for our customers. Twelve years later we still believe in creating sandwiches and other goodies that are homemade—without the hassle for you.
Earl's now makes sandwiches in Ballston and Clarendon, and each location has its own roasting ovens. We roast all our own turkey, beef and pork.
We cater, too. Nothing fancy, just great sandwich lunches for meetings and office events. Generous portions, along with the drinks and cookies to keep your energy up for that final two hours of the meeting.
Come visit us at Ballston (4215 North Fairfax Drive, right across from the Ballston Metro) and Clarendon (2605 Wilson Boulevard, a five-minute walk from Courthouse Metro).