There's just something about homemade cookies. Perhaps it reminds us of being a kid again or going to grandma's house or just makes a rainy day seem brighter. But, there's no denying a homemade cookie will bring a smile to your face.
That's exactly why we bake our cookies from scratch, every day. It's such a simple way to create delicious food for our customers. Everyone deserves fresh food and baked goods. From the day we started Earl's, we had a manifesto:
Sandwiches will be made with freshly roasted fillings, not sliced deli meats. Soups will be hot and homemade (unless they are served cold—but still homemade). Cookies will be baked fresh every day. Breakfast sandwiches should be served all day.
We've continued to keep this promise over the last 12 years and have no intention in changing any time soon!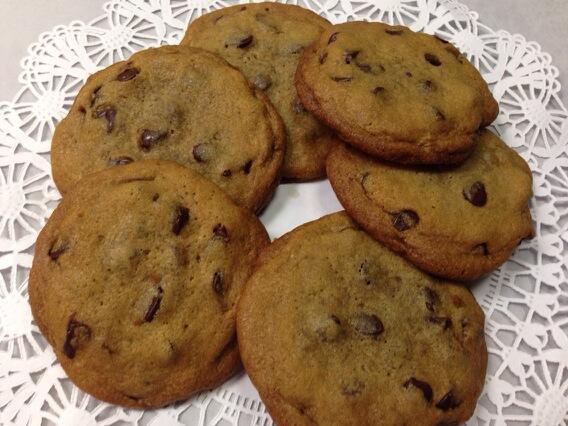 The Perfect Chocolate Chip Cookie
2 1/4 cups all-purpose flour

1 teaspoon baking soda

1 teaspoon salt

1 cup (2 sticks) butter, softened

3/4 cup granulated sugar

3/4 cup packed brown sugar

1.5 teaspoon vanilla extract

2 large eggs

2 cups chocolate chips
Directions
Preheat your oven to 375°F.

Combine flour, baking soda, and salt in small bowl.

Beat butter, granulated sugar, brown sugar, and vanilla extract in large mixer bowl until creamy.

Add eggs, one at a time, beating well after each addition. Gradually beat in flour mixture. Stir in morsels and nuts.

Drop by rounded tablespoon onto ungreased baking sheets.

Bake for 9 to 11 minutes or until golden brown. Cool on baking sheets for 2 minutes; remove to wire racks to cool completely.

Enjoy!
About Earl's
We're sandwich nerds who love preparing fresh food for our customers. Twelve years later we still believe in creating sandwiches and other goodies that are homemade—without the hassle for you.
Earl's now makes sandwiches in Ballston and Clarendon, and each location has its own roasting ovens. We roast all our own turkey, beef and pork.
We cater, too. Nothing fancy, just great sandwich lunches for meetings and office events. Generous portions, along with the drinks and cookies to keep your energy up for that final two hours of the meeting.
Come visit us at Ballston (4215 North Fairfax Drive, right across from the Ballston Metro) and Clarendon (2605 Wilson Boulevard, a five-minute walk from Courthouse Metro).