Ahhh, the aromas of slow roasted pork with vibrant scents of herbs! There are countless methods and variations from countries all over the world that attempt to master such a beautiful thing. Here's our version of South Philadelphia's roast pork sandwich.
To truly know the slow roasted pork sandwich, one must first learn a bit of its history. This east coast tradition originated from no other than, you may have guessed it: Italy!  It's based off of the very traditional Italian dish known as porchetta, which is a suckling pig that has been boned, seasoned with garlic and herbs, and roasted.
According to Wikipedia, "Porchetta was introduced to the United States by Italian immigrants in the early 20th century, especially immigrants from Abruzzo, and is sometimes referred to as "Italian pulled pork," "roast pork," or "Italian roast pork." It is, in many places, served on a sandwich with greens and provolone cheese."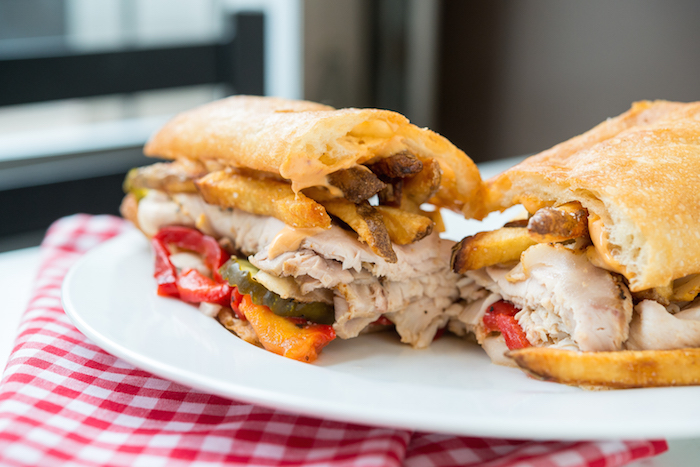 Of course one may argue as to what makes this sandwich so incredible is the young, tender pork, or the sharp provolone, or maybe the hoagie roll that brings it all together. However, we're going of offer our own, alternative suggestion: the not so age old process of roasting foods.
Roasting is a cooking method that uses dry heat where hot air envelops the food, cooking it evenly on all sides, which can enhance flavor through caramelization and browning on the surface of the food. Since roasting uses indirect, diffused heat (in an oven), it suitable for slower cooking of meat in a larger, whole piece. Rather than being bogged down by a sauce or stew, roasted meats are meant to be the highlight of the show, which could not be truer in this traditional, South Philly classic.
This is a sandwich whose filling comes from young, tender, fatty pork that is slow cooked, accompanied by a touch of slightly bitter broccoli rabe and wrapped with a slice of sharp, tasty provolone, all of which is served inside a fresh, good ol fashioned hoagie roll.  Hungry yet?  
If you're in Philly looking for this amazing classic sandwich, we suggest checking out James Beard award winning John's Roast Pork on the south side, not far from the Delaware River. But if you're in DC there's no better place than Earl's when it comes to classic, traditional techniques paired with inventive sandwich creations (like stuffing our pork sandwich with french fries instead of greens). Come visit us and give it a try!