Have you ever ordered catering for an office meeting? It doesn't matter that it's an informal get-together in the office- it can still be stressful if you let it. You wonder, what if there's not enough food? What if there's way too much food? How do I cater for dietary requirements? The list goes on and on…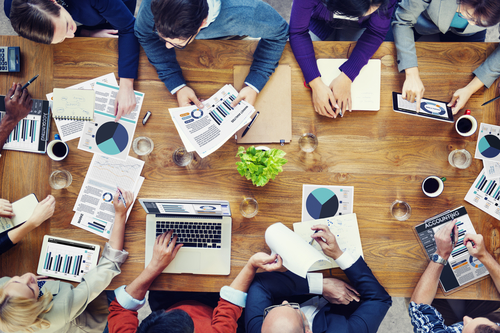 But, you don't have to worry about these things because we've got the answers! After catering hundreds of office meetings, we know what you need to know in order to have a successful event. Read on to learn 5 tips for ordering catering for your next Arlington office meeting!
Dietary Restrictions
This is a big one lately, that's why we wanted to address it first…be sure to ask everyone who is invited (just add it to the email that goes out with the invite) to let you know if they have ANY dietary restrictions. Vegetarian and gluten free options have virtually become staples for a catering event, but that doesn't mean you can forget nuts, dairy and certain fruits and vegetables. (Some people don't do well with tomatoes- can you believe that?). So, just remember to ask everyone who will be attending to get an accurate picture of who needs what.
Portion Planning
One of the most common questions we get asked is, "How much food should I order"? But the answer to that question really starts with you and your event's needs. Ask yourself – what are attendees expecting? How many people will be there?
You also need to consider the people in attendance. Men eat more than women. If your event is predominately males,  you may want to order extra portions.
Ending up with too much food isn't great, but it's much preferable to not having enough. Chances are, even if you do slightly over order, the food will eventually get eaten. (People love finding leftovers in the kitchen 🙂 )
Variety
Nothing excites people more than to be pleasantly surprised when working lunch options have a variety to choose from. Try not to order just one or two types of food (or sandwiches), go for different options. People like to try new and different things. Be sure to order vegetarian and gluten-free as well. (See above)
Plan ahead
You've got enough to worry about, you don't need to be rushing around at the last minute trying to find a last-minute catering option for your office meeting. Reserving your order ahead of time can make it a whole lot easier on you!
Be sure to give the correct delivery information to the company when you order (and ask for a confirmation email or number) or have someone available to pick it up if that is preferable. Give them all of your contact information so there are no hiccups in the delivery process.
Budget Accordingly
Catering costs can vary across a wide range of prices. It's useful to have a budget in mind before you order the food. Ask prices and options and let them know your budget- hopefully you can work together to come up with a price that is suitable for both.
Bonus Tip: Expect the unexpected
The reality is, no matter how hard you try, sometimes things don't always go as planned. It's just the reality. Try to be flexible and open minded so you don't get overwhelmed and stressed out.
About Earl's
We started Earl's in 2005 with a sandwich-joint manifesto: We will roast our beef, pork and turkey fresh — no sliced deli meats here. Soups will be homemade, and we'll bake cookies fresh every day. Oh, and we'll serve breakfast sandwiches all day.
Our approach to catering is no different: We'll bring you fresh, high-quality food at reasonable prices. We truly believe in homemade without the hassle. Contact us today for your next catering event!