Ballston is one of Arlington's earliest (and biggest) communities and has been a major retail center for over 50 years. Our walkable and lovable neighborhood has so many options- restaurants, coffee shops, grocery stores, universities and much more. Read on to learn more about our awesome slice of Arlington!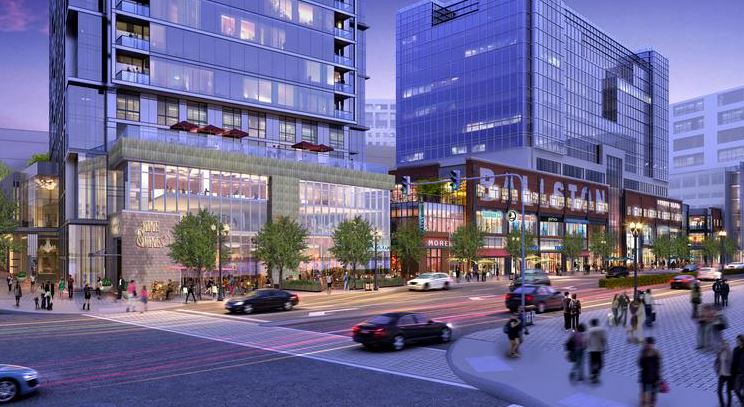 Ballston is a triangular-shaped community with high-rise office buildings, apartment buildings and condos, retail shops and houses. Located right on the Metro line, Ballston is just a hop, skip and a jump away from the "Big City" across the Potomac River.
The community is named after Ensign John Ball, a Revolutionary War veteran, who bought land and built a house in the community back in 1742. He built a one bedroom cabin on 166 acre plot. The home is still intact and is now maintained by the Arlington Historical Society.
Ballston is also home to the Kettler Capitals Iceplex, where the Washington Capitals practice and Ballston Quarter's Regal Cinemas, where you can catch all the new releases this summer. Also, during the summer months (May-October) you can visit the FreshFarm Market in Welburn Square from 3-7 PM on Thursdays.
There are also five universities located within Ballston- George Washington University, Marymount University, Everest College, NOVA Community College and Virginia Tech- National Capital Region. Plenty of options for anything you may want to study!
Having such a blend of commerce, education and housing has made Ballston a unique and fun place to live. You can walk almost everywhere within our small radius and find anything you need.
We love it here and are so lucky for our community! If you're looking to move here, you'll be welcomed with open arms 🙂  
About Earl's
We started Earl's in 2005 with a sandwich-joint manifesto: We will roast our beef, pork and turkey fresh — no sliced deli meats here. Soups will be homemade, and we'll bake cookies fresh every day. Oh, and we'll serve breakfast sandwiches all day.
Our approach to catering is no different: We'll bring you fresh, high-quality food at reasonable prices. We truly believe in homemade without the hassle. Contact us today for your next catering event!